Poach Advantage Pickleball Paddle: New Design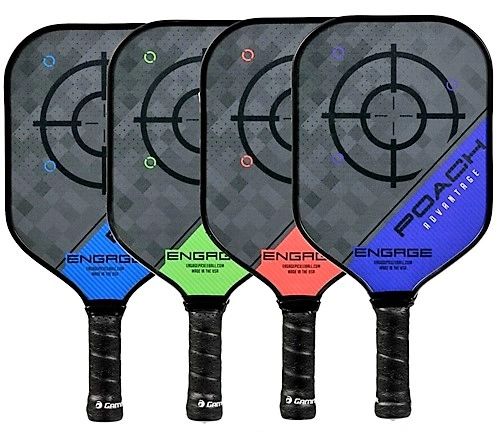 Poach Advantage Pickleball Paddle: New Design
The Poach Advantage by Engage is the first paddle to have a surface skin (or face) made up of an astounding 6 layers. While most paddles only use one or two layers, this proprietary "Variable Release" surface created by Engage creates incredible ball responsiveness and power while maintaining a very soft feel in touch shots. The texture of this paddle has been refined to provide exceptional spin while still meeting USAPA guidelines. With a unique unidirectional texture, the paddle gives players that use a top spin or backspin exceptional ability to "work" a ball.  
Engage's Poach Advantage also brings innovation to the core under the surface layer. Engage have created a core that behaves differently under different swing speeds which they call "Variable Release Technology". This means that the Poach Advantage is not a "power" paddle nor is it a "control" one, it is both! Unlike other cores that are coloured white from the polypropylene the chemistry used in this paddle makes the core black. The paddle is able to give a player the ability to almost "hold" the ball in place during slower shots for optimal placement. 
The Poach Advantage is a highly innovative paddle that will allow players to improve their play through smooth handling and its reactive surface. Available in Blue, Green or Red.
Paddle Specifications:
Weight Range: 7.6/7.9 ounces
Grip Circumference: 4 1/4" (Medium)
Paddle Dimensions: Length: 16" Width: 8"
Paddle Face: Fibreglass - Proprietary 6 Layer Fibreglass Polymer Composite
Core Material: Polymer Composite Honeycomb (Control Pro "Black" Technology)
Edge Guard: Yes - ¼" overlapping paddle face 
Made in the USA and approved for use in USAPA sanctioned tournaments
Reviews