Poach Advantage Pickleball Paddle: Original Design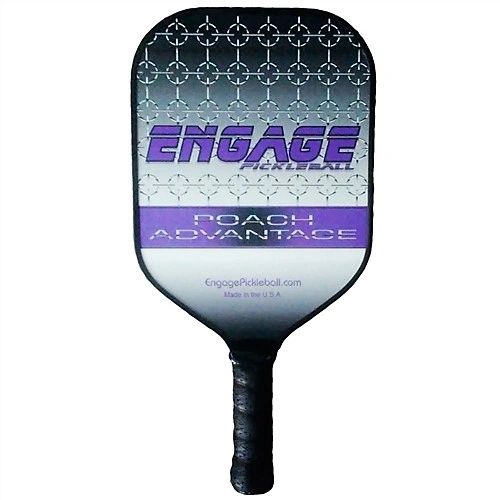 Poach Advantage Pickleball Paddle: Original Design
The
Poach Advantage
by Engage is the first paddle to have a surface skin (or face) made up of an astounding 6 layers. While most paddles only use one or two layers, this proprietary "Variable Release" surface created by Engage creates incredible ball responsiveness and power while maintaining a very soft feel in touch shots. The texture of this paddle has been refined to provide exceptional spin while still meeting USAPA guidelines. Leveraging a unique unidirectional texture, the paddle gives players that use a top spin or backspin exceptional ability to "work" a ball.
Engage's Poach Advantage also brings innovation to the core under the surface layer. While the face of the paddle interacts with the ball and enables its to "work" a ball by helping add or reduce spin, the way the face interacts with the core determines if a paddle is a "power paddle" returning energy quickly to a ball or a "control paddle" absorbing energy and giving a softer touch. Engage's approach was to create a core that would behave differently under different swing speeds which they call "Variable Release Technology". Unlike other cores that are "white" from the polypropylene, the chemistry used in this paddle renders the core black. Engage calls this the "Control Pro Black" core. The result is that they feel that the paddle is able to give a player the ability to almost "hold" (their words) the ball in place during slower shots for optimal placement.
The Poach Advantage weighs 7.6 - 7.7 ounces with a medium grip and a 5" handle length. The face width is 8" to provide a generous surface area and sweet spot. The design features a gradient background with an overlaid target pattern. The paddle name is displayed on a strip of colour near the lower third of the face.
The Poach Advantage is a highly innovative paddle that will allow players to improve their play through smooth handling and its reactive surface. Colour: Purple only.
Shipping within the UK is FREE but shipping anywhere else within the EU is £10. For destinations outside the EU, please call or email for a price before placing your order.
Paddle Specifications:
Weight Range: 7.6/7.7 ounces
Grip Circumference: 4 1/4" (Medium)
Paddle Length: 16"
Paddle Width: 8"
Paddle Face: Fibreglass - Proprietary 6 Layer Fibreglass Polymer Composite
Core Material: Polymer Composite Honeycomb (Control Pro "Black" Technology)
Edge Guard: ¼" overlapping paddle face
Made in the USA and approved for use in USAPA sanctioned tournaments
Reviews