Selkirk Prime S2 FibreFlex Pickleball Paddle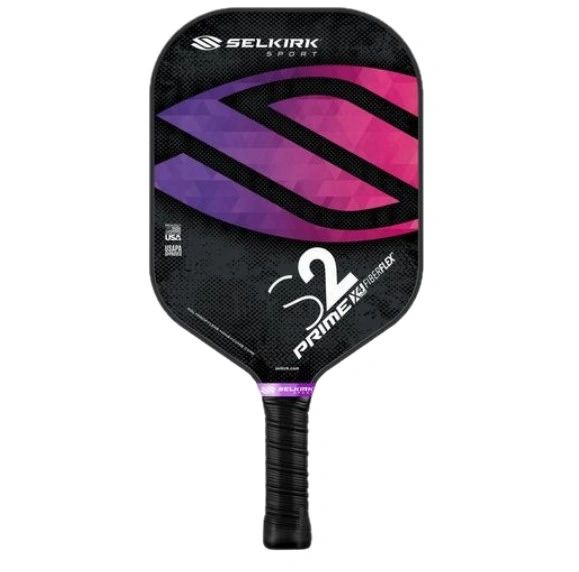 Selkirk Prime S2 FibreFlex Pickleball Paddle
The PRIME S2 Paddle has the largest sweet spot of all of Selkirk's paddle shapes. If you're looking for pop, power and surface area, this paddle will make your pickleball dreams a reality. Despite its generous size, the PRIME S2 is a medium weight paddle that can be easily used in any scenario and handled quickly on the court. The FibreFlex surface reduces vibration without losing any of the strength and durability in the face. 

The PRIME S2 Paddle has  a medium sized 4-1/4" grip. The 7.3 – 7.7 oz weight provides just the right level of balance and allows players to maintain control over their placement. The design features a black background with a lightly distressed look and the Selkirk logo in a vibrant color at the center. The paddle's name runs diagonally along the lower right side of the layout. 

The PRIME S2 Paddle is a reliable all-around option that will improve your consistency across the board. Available in the following colours: Fields of Green or Twilight Purple.
Specifications:
Paddle Weight Range: 7.3 – 7.7 oz. 
Grip Circumference:  4 1/4" (Medium)
Grip Manufacturer: Selkirk
Handle Length: 4 3/4" 
Paddle Length: 15 3/4" 
Paddle Width: 8" 
Paddle Face: FibreFlex (fiberglass)
Core material: X4 Polymer honeycomb 
Edge Guard: Low-profile Sentry edge trim 
Manufacturer: Selkirk Sports
Made in the USA and USAPA approved


Reviews