Prince Spectrum Pickleball Paddle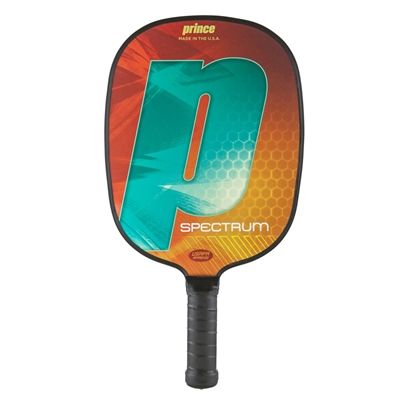 Prince Spectrum Pickleball Paddle
The Prince Spectrum Pickleball Paddle has a large playing surface that complements its heavily rounded and adaptable sweet spot. If you want to be able to return shots regardless of where they hit your paddle, this option has got you covered. The feel of this paddle provides excellent reactivity without forcing you to lose out on control thanks to its polymer core. The paddle has a standard 5 inch length handle which suits the majority of players but Prince also cater for those who prefer a longer handle with the Spectrum's sister paddle the Response. The perfectly-balanced medium weight of this paddle will also suit most players.  Add to this the eye-catching design in a choice of two colours and the choice of a small or medium grip and you have the perfect paddle to suit your needs.
The Spectrum Pickleball Paddle is all you need to manage the pace of the game and stay prepared to return slams and dinks alike.
Specifications:
Weight Range: 7.5-7.7 ounces
Grip Circumference: 4 inches (Small). Actual grip sizes may vary up to 1/8".
Grip Circumference: 4 3/8 inches  (Medium) Actual grip sizes may vary up to 1/8".
Grip Style: Thin or perforated cushion
Grip Manufacturer: Prince
Handle Length: 5"
Paddle Length: 15 3/4"
Paddle Width: 8 1/4"
Paddle Face: Textured fiberglass
Core Material: Polymer Honeycomb
Edge Guard: 1/8" overlapping paddle face
Manufacturer: Prince Pickleball, Made in USA. USAPA approved

Reviews