Rally Flare Graphite Pickleball Paddle: choice of 4 colours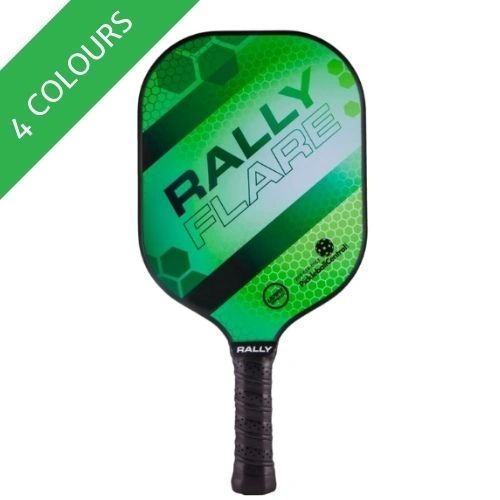 Rally Flare Graphite Pickleball Paddle: choice of 4 colours
The Rally Flare Graphite Paddle allows the player to respond quickly and seize the opportunity to put away shots. This paddle's weight is on the lighter side of midweight (average 7.5 ounces) with a smaller grip circumference (4 inches) so it is easy to manoeuvre and helps with quickness at the non-volley line. It has a durable and powerful polymer core and the balanced measurements allow it to feel at home in just about any player's hand. Quality materials and construction create an all-around performer that will stand up to daily use. 
The Rally Flare Graphite is designed and built foremost for durability and versatility making it an adaptive paddle suitable for many play styles. Whether you're a new player or court regular you'll find the paddle to enhance quick reactions, perform solidly at the net on dink shots and offer ample power from the baseline with lightly head biased weighting for an elongated sweet spot that extends higher up the face.
The Rally Flare paddle's weight ranges from 7.3 - 7.8 oz. It has a 5" long handle paired with a small grip circumference that allows for quick wrist action and more manoeuvrability. The face is 7-3/4" wide with a slim edge guard that allows the sweet spot to shine. This USAPA-approved paddle is decorated with a honeycomb pattern and characteristic Rally stripes running diagonally across the face. The "Rally Flare" name is placed directly in the centre atop a light flare graphic.
The Rally Flare Graphite Paddle puts the spotlight on comfort, control and reactive performance during play so you can make the most out of every scenario. Choice of four colours: Blue, Green, Purple or Red.
Reviews