Rally Graphite Pickleball Paddle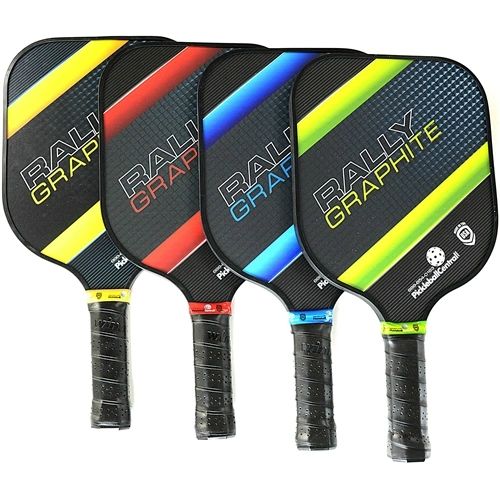 Rally Graphite Pickleball Paddle
The
Rally Graphite Pickleball Paddle
by
Pickleball Central
is arguably one of the best paddles on the market. The extremely strong graphite face is unidirectional, meaning that it is designed for both longitudinal and tensional stiffness. The ball will have no issues flying off this paddle's face. Inside, the Nomex honeycomb core is durable and will withstand countless dinks, lobs and volleys. It's not only a well-made paddle, it's also stunning. Sharp diagonal lines shine in a contrasting colour to the grey honeycomb background, with "RALLY GRAPHITE" printed on the center of the face. The endcap matches the colour of the face, as is the grip tape wrapped around the upper handle.
The Rally Graphite Pickleball Paddle is the ideal weight to enable players to dink just over the net without having to sacrifice the ability to hit deep line drives. At an average weight of 7.5 ounces, players have a great balance of power and control. The 8-1/8" wide face gives players ample hitting surface with a great overall length of 15-3/4". The handle feels longer than average in play and has a small grip so that it can fit any hand.
Colours available: Blue and Yellow.
Weight Average: 7.5 oz (standard)
Weight Range: 7.2-7.9 oz (standard)
Grip Circumference: 4" (Small)
Grip Style: Perforated cushion
Grip Manufacturer: Winn Dry Tac
Grip Length: 4 3/4"
Paddle Length: 15 3/4"
Paddle Width: 8 1/8"
Paddle Face: Graphite
Core Material: Nomex honeycomb
Edge Guard: 1/8" overlapping paddle face
Made in the USA.
Manufacturer: PickleballCentral
Reviews