Rally Tyro 2 Pickleball Pack: two paddles and four balls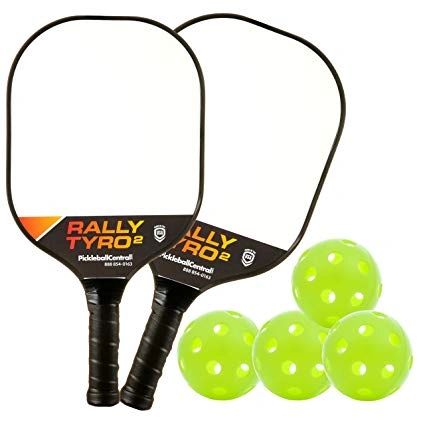 Rally Tyro 2 Pickleball Pack: two paddles and four balls
The Rally Tyro 2 Pickleball Pack by Pickleball Central offers unrivaled value for money. 
The paddles are ultra durable with a high-strength performance polypropylene honeycomb core, powerful composite face and superior edgeguard grip technology. Their universal grip has a 4.0" circumference & 5" length which fits nearly every hand, allowing for extremely quick wrist action and the performance optimised weight of under 7.0 ounces offers ultimate ball control and agility. The paddles also feature an optimised head weighted distribution retaining power for driving shots and overheads.
The balls with this pack are the extremely popular Jugs indoor in lime green. 
Reviews