Rally Tyro Pro Pickleball Paddle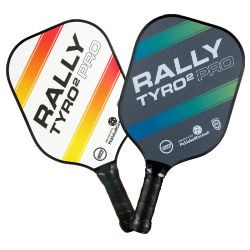 Rally Tyro Pro Pickleball Paddle
The Rally Tyro 2 Pro will give you a sturdy swing and fantastic control. Thanks to its shock-dampening polymer core, you'll be able to defend against the most stubborn slammers as well as return a few zingers of your own. This paddle weighs in as a "middleweight", perfect for all player types. Compared to the regular non-Pro edition of the standard Tyro 2, this paddle has a good amount of "pop" and power in it for serves, volleys, and baseline shots, while delivering a wonderful soft touch for dinks.  
One of the things players like the most about this paddle is the size of its sweet spot. The shape and design of this paddle was optimised to create a very consistent and large sweet spot, replicating the performance of paddles almost twice its price and making it incredible value for money. 
The Tyro 2 Pro has a medium circumference grip at 4.25", with a 5" long handle. The weight range is 7.5 - 7.9 oz and the face has a slightly larger standard 7-3/4" width, with elongated neck for great reach. The sport grip used has a nice amount of tack that will allow you to keep control of your paddle. The poly-carbonate composite face layers over a fiberglass reinforced .5" thick honeycomb polymer core to create a gentle but hardy feel.  
The Tyro 2 Pro will serve you well whether you're a committed and serious player looking for a great value in a game improvement paddle, or a serious beginner who wants a paddle they won't outgrow anytime soon. Choose from Fire (orange/yellow) or Ocean (blue/green).
Paddle Specifications:
Weight Average: 7.7 ounces
Weight Range: 7.5-7.9 ounces
Grip Circumference: 4 1/4" (Medium)
Grip Length: 5"
Paddle Length:15 5/8"
Paddle Width: 7 3/4"
Paddle Face: Polycarbonate
Core Material: Polymer honeycomb
Edge Guard: 1/8" overlapping paddle face 
Made in the USA, USAPA approved
Reviews