Prolite Rebel Powerspin Pickleball Paddle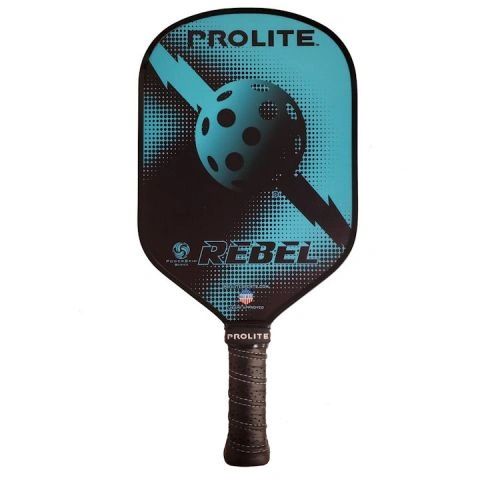 Prolite Rebel Powerspin Pickleball Paddle
Designed for the nonconformist, the
Rebel PowerSpin Paddle
will set you apart on the court with its style and high-performing features. The Rebel has a 14 mm thick polymer core at its heart (known for durability) and a textured fibreglass face to make adding spin the shots easier than before.
With an overall length of 16", the Rebel provides a high degree of reach to respond to tough shots. This is paired with a unique low-profile tapered edge guard that ensures you can use as much surface area as possible. The weight sits at a balanced 7.9 - 8.3 that will give the player power in their  ground strokes and overhead shots but crucially will still allow for the "soft" game. It comes with a comfortable 4-1/4" medium-circumference grip and modern UV protected and textured graphics top it all off and are sure to make you feel like a superstar in your own right! Colours: Blue, Gold and Red
Specifications:
Core: 14 mm Polypropylene Honeycomb,
Face: Fibreglass with SpinTac Surface Technology
Length: 16" (extra-long paddle face for enhanced reach)

Width: 7 13/16"
Weight: 7.9-8.3 oz.
Grip: PROLITE Comfort Contour Grip
Grip Circumference: 4 1/4" (medium)
Handle Length: 4 3/4"
Edgeguard: Low Profile Tapered Edge
Manufactured in the USA and meets the USAPA's specifications

Reviews