Prolite Rebel Powerspin Pickleball Paddle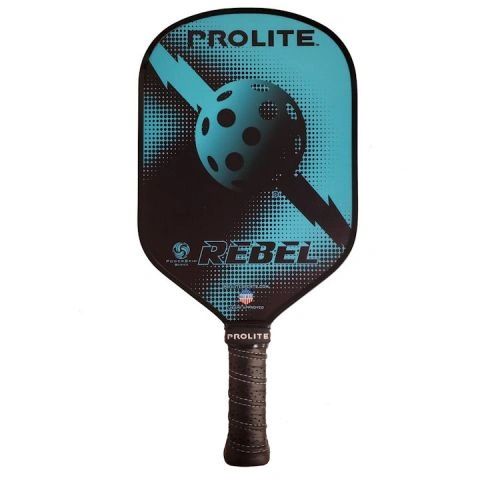 Prolite Rebel Powerspin Pickleball Paddle
Respected pickleball manufacturer ProLite didn't hold back when designing the new Rebel PowerSpin Paddle. They wanted the Rebel's tough and rebellious attitude to shine through its new graphics! The Rebel PowerSpin is a powerhouse and a tennis-to-pickleball convert's dream paddle. The Rebel has a comfortable handle wrapped with ProLite's comfort contour cushion Grip. Boasting an extra-long 16" reach and weight distribution towards the head of the paddle, you will undoubtedly feel the power at impact. ProLite invite you to play with a chip on your shoulder and REBEL against the norm! Besides, normal is boring.
Specifications:
Core: 13 mm Polypropylene Honeycomb,
Face: Fibreglass with SpinTac Surface Technology
Length: 16" (Extra-long paddle face for enhanced reach

Width: 7 13/16"
Weight: 7.9-8.3 oz.
Grip: PROLITE Comfort Contour Grip
Grip Circumference: 4 1/4" (medium)
Handle Length: 4 3/4"
Edgeguard: Low Profile Tapered Edge
Manufactured in the USA and meets the USAPA's specifications

Reviews