Response Pro by Prince: Simone Jardim signature pickleball paddle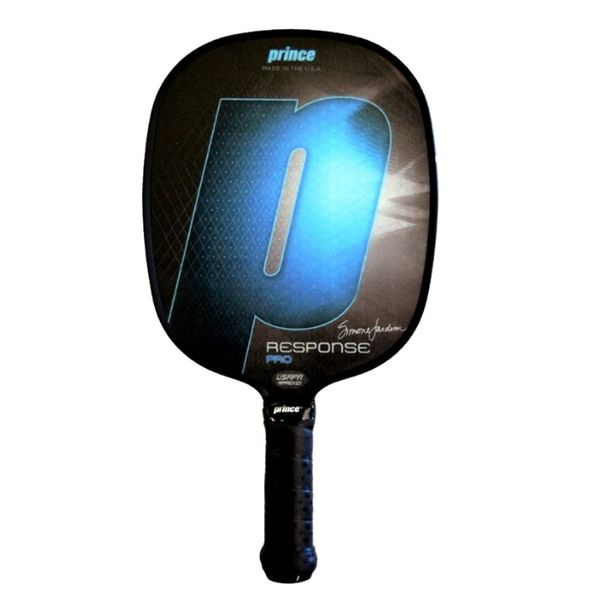 Response Pro by Prince: Simone Jardim signature pickleball paddle
The

Prince

Response Pro Paddle

brings a innovative shape to the world of pickleball with its highly rounded design. This creates an exceptionally large sweet spot with a gentle touch that will keep your hold on the paddle firm. A thick polymer core generates high amounts of power in every swing while still making it easy to control the ball's speed and direction. This unique paddle is used by Simone Jardim, the best woman player in the world, so if it's good enough for her it should be plenty good enough for us!
The Response Pro Paddle has a 8-1/4" width and a slim edge guard to provide a large amount of usable space. Its handle is 5-1/2" long, allowing for impressive reach and plenty of space for players' hands regardless of size, and works well for those players that, like Simone, use a two handed backhand. The medium grip grip size and perfect mid-weight will suit the vast majority of players..
The Response Pro Paddle's broad face gives players ample opportunity to return any shot with a high amount of pop, control and speed.
Colours available are Blue and Orange.
Specifications:
Weight Average: 8.0 ounces, Range 7.8-8.3 ounces
Grip Circumference:  4 3/8" (medium), 
Style: Perforated cushion
Handle Length: 5.5" (long)
Paddle Length: 15 3/4", Paddle Width: 8 1/4"
Paddle Face : Textured UV coated Fibreglass
Core Material: Polymer honeycomb
Manufacturer: Prince Pickleball. Made in the USA, USAPA Approved
Reviews