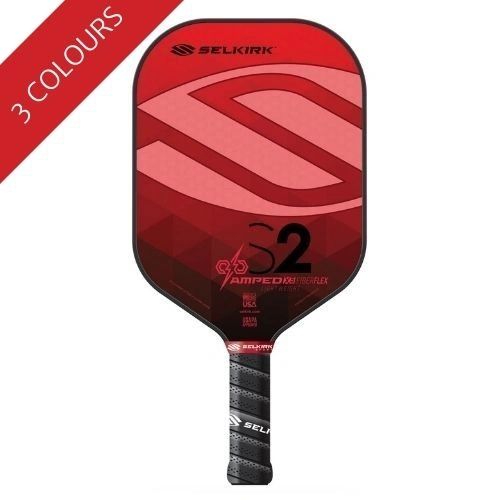 Selkirk Amped S2 Paddle
The AMPED S2 X5 FibreFlex Paddle has the largest surface area in Selkirk's AMPED line. Players appreciate the versatility the broad face and the impressive sweet spot. The unique FibreFlex face and graphic application process allows more time to place shots where you want them, giving unrivalled accuracy and power. The X5 thicker core adds more consistency across the face and a quieter sound.

The AMPED S2 X5 FibreFlex Paddle has a weight average of 8.1 oz (Std. Weight) or 7.6 oz (Light Weight). The handle is a little shorter than the rest of the AMPED line to accommodate the bigger face but is plenty long enough to accommodate a large hand or a two-handed backhand . The large paddle face/sweet spot makes it suitable for any level of play and, although you will usually see this paddle in the hand of advanced and Pro players, it is equally suitable for a beginner if they want to invest in a top-quality paddle.
The Amped S2 comes with a standard circumference grip (4.25 inches) but this can be substituted for a thin grip (4inches) if you prefer. The smaller grip will drop the weight of the paddle by 0.1-0.2 of an ounce. 

The AMPED S2 X5 FibreFlex Paddle uses modern paddle technology to offer powerful yet controlled play and consistent responsiveness across the face.
Currently, the Midweight model is the only one in stock. Lightweight is available to order so please call or email for expected delivery dates.
Specifications:
Weight Range: 7.4-7.9 (Light Weight), 8.0-8.4 oz. (Standard Weight)
Grip Circumference: 4" (Thin Grip) or 4 1/4" (Standard Grip) Actual grip sizes may vary up to 1/8"
Handle Length: 4 1/2" (standard), Paddle Length: 15 3/4", Paddle Width: 8"
Face: FibreFlex (fiberglass)
Core material: X5 Polymer honeycomb
Core Thickness: 5/8" (16mm) thicker core paddle
Edge Guard: Low-profile vinyl edge trim
Manufacturer: Selkirk Sports, Made in the USA, USAPA approved

Reviews