Selkirk Invikta Amped 2020 Pickleball Paddle: Only one left, lightweight, red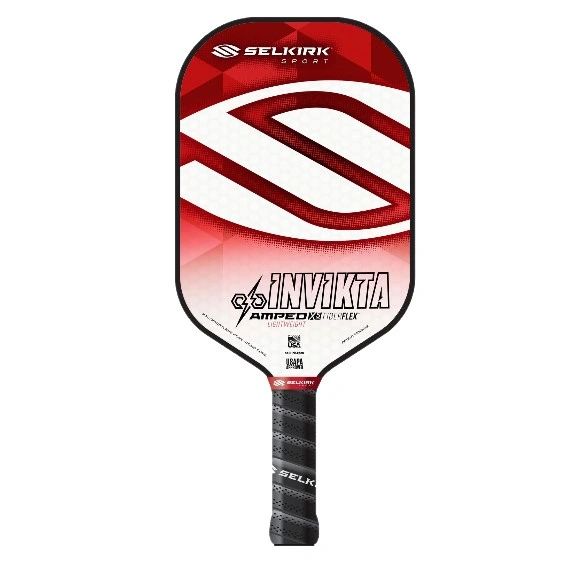 Selkirk Invikta Amped 2020 Pickleball Paddle: Only one left, lightweight, red
When it's gone it's gone! The 2020 model is the same great paddle as the 2021 but with a slightly different (some might say nicer) graphic. Only one left: colour red, lightweight model, 7.5 ounces, medium grip. Click here if you'd like to see the 2021 version of this paddle
Are you ready to get AMPED? Selkirk's AMPED Invikta X5 was designed in conjunction with national champion and world leading player Tyson McGuffin to provide extreme reach without reducing the paddle's sweet spot. As a result, the Invikta has power, control and the versatility to allow you to react quickly to any scenario. Unlike most elongated paddles, it also has a slightly longer handle that allows for more manoeuvrability and comfort.  
The Invikta X5 has a very comfortable small/medium width (4.25 inch) grip but slightly longer handle (measuring 5.25 inches) for added quickness at the kitchen line. The innovative double-thickness Selkirk polymer core reduces impact on the player's arm and helps to create consistent power and control. The combination of the thicker core, the longer handle and the longer hitting surface makes this a fantastic paddle for both doubles and singles play. Selkirk's paddles are always a treat for the eye but the fresh new graphics of the 2020 model really pop.
The AMPED Invikta X5 will have you driving balls down the court and winning matches with its well-balanced yet powerful construction. 
Technology:

Core: X5TM Polypropylene Polymer Core 
Face: FibreFlexTM Unidirectional Face
Design: Unibody design for durability and performance
Edge: EdgeSentryTM 
Grip: Selkirk ComfortGripTM
Reviews