Selkirk S2 Amped 2020 Pickleball Paddle: Lightweight and Midweight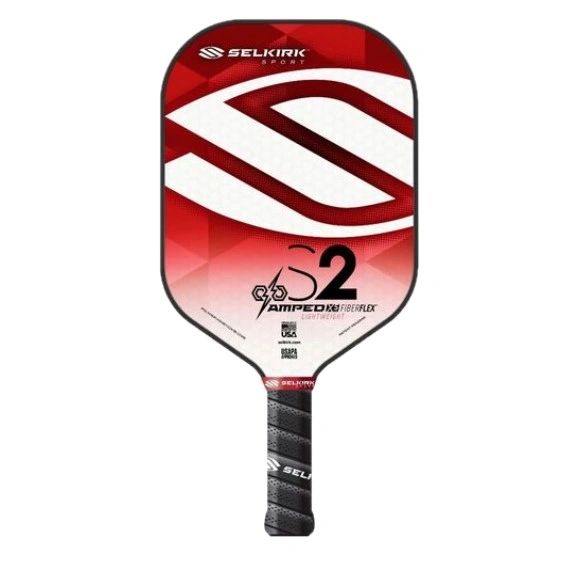 Selkirk S2 Amped 2020 Pickleball Paddle: Lightweight and Midweight
Are you ready to get AMPED? The 2020 Selkirk Amped range features fresh new graphics and increased durability. 
The S2 lightweight is currently on backorder but we have the midweight in stock.
The AMPED S2 X5 FiberFlex Paddle has the largest surface area in Selkirk's AMPED line. Players will appreciate the versatility the broad face allows as well as the impressive sweet spot. Balls will react off the face with great accuracy thanks to the unique FiberFlex face and graphic application process which allow for more time to place shots where you want them. The X5 thicker core adds more consistency across the face and a quieter sound.  
The AMPED S2 X5 FiberFlex Paddle has a slightly shorter handle than the rest of the AMPED line to accommodate the bigger face but can still be used comfortably by players with a larger hand or a double-handed backhand. The Selkirk "S" logo is placed slightly above centre in the middle of the paddle. A colourful geometric backing lies in the upper half of the paddle while the lower portion is white. The paddle name is written in a black font below the logo. 
The AMPED S2 X5 FiberFlex Paddle uses modern paddle technology to offer powerful yet controlled play and consistent responsiveness across the face. 
Specifications:
·        Weight Range: Lightweight 7.4 – 7.8 oz, Midweight 7.9 - 8.3 oz
·        Grip Circumference:  4 1/4"  (medium)
·        Handle Length: 4 3/4" (average)
·        Paddle Length: 15 3/4"
·        Paddle Width: 8" 
·        Face: FibreFlex (fibreglass) 
·        Core material: X5 Polymer honeycomb (9/16" thick)
·        Edge Guard: Low-profile vinyl edge trim 
·        Manufacturer: Selkirk Sports. Made in the USA & USAPA approved
Reviews