Selkirk SLK Latitude Graphite Widebody Paddle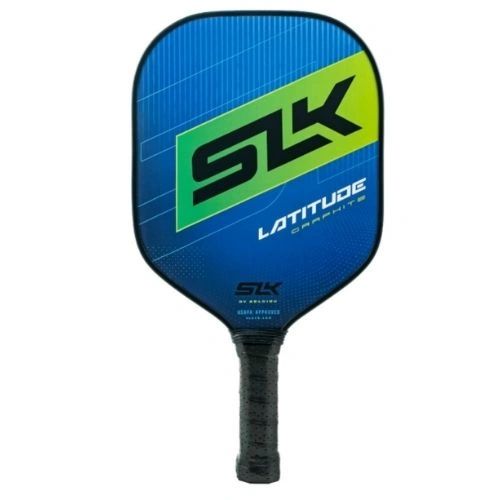 Selkirk SLK Latitude Graphite Widebody Paddle
The SLK Graphite Latitude Widebody Paddle is a well-rounded pick for beginner players who want quality, balance and comfort. It has an oversized, 8-¼" wide face which offers a big sweet spot players can use to defend slams and put away points. The graphite surface provides a sensitive touch that helps players stay connected to their paddle while the polymer PowerCore ensures a tough construction that will last for many games.
The SLK Graphite Latitude Widebody Paddle weighs 7.2 - 7.8 oz, resulting in a light feel that can still offer extra "pop" when needed. A 5-¼" long handle can be adapted for double-handed backhands or simply allow for more manoeuvring during play. The grip has a medium circumference with a cushioned feel that provides extra padding for the hand. This paddle lives up to Selkirk's demanding standards but is accessible at a great price.
The SLK Graphite Latitude Widebody Paddle will let you jump into pickleball games with a paddle that can handle it all, letting you concentrate on winning the match.
Specifications:
Weight Average: 7.5 oz, Weight Range: 7.2-7.8 oz
Grip Circumference: 4 1/4"(medium).
Grip Length: 5 1/4" - slightly longer than average
Paddle Length: 15 1/2"
Paddle Width: 8 1/4"
Paddle Face: Dual-Layer Graphite
Core Material: Polymer PowerCore
Made in China, USAPA approved

Reviews