Vanguard Invikta 2.0 Paddle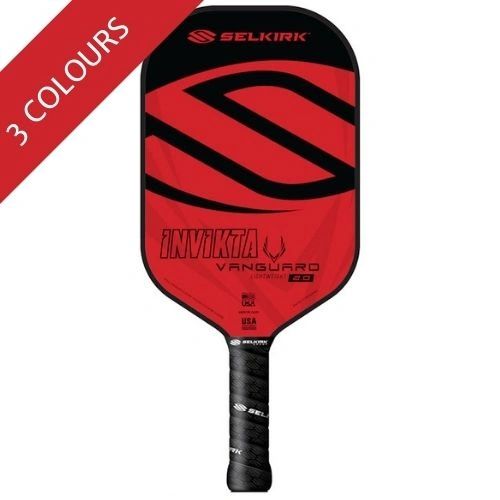 Vanguard Invikta 2.0 Paddle
The 2.0 Vanguard Invikta is now in stock!
Join the Vanguard revolution! If you've already been "Amped" then you'll know the benefit that the innovative double-thickness core brings to your game in terms of stability, power and control. With their new Vanguard range Selkirk have taken this technology to a whole new level!
The VANGUARD Hybrid Invikta Paddle is ideal for full court coverage and expansive reach thanks to its elongated shape. The Invikta shaped design developed its reputation as a paddle for players who like some extra power due to it's slightly head-biased weighting, and it's longer handle, allowing players to strike the ball slightly further away from their body. This allows you to generate a larger swing arc, and hence higher impact speeds, just like Tyson McGuffin!
This new VANGUARD Hybrid Series paddle takes advantage of a series of technological improvements: a new grip, a new edge guard and double layered carbon fibre (graphite) face. The "geo grip" is highly cushioned and has a high level of moisture absorption and tack and was launched specifically for the VANGUARD line. The QuadCarbon fibre surface uses two layers of woven carbon fibre on each side of the paddle, a total of four layers, to create consistent play and exceptional durability. Players describe the sweet spot changes from the new face material as "amazing", and "transformative" giving the VANGUARD Hybrid Invikta a sweet spot that is much larger, coming further down the face than ever before. This gives you the extra reach and power the Inviktas are known for, with more defensive blocking capability and ball working control when striking the ball closer to the handle. The edge guard is light weight with a slender profile so it keeps your paddle safe but helps minimize mis-hits.

The VANGUARD Hybrid Invikta Paddle comes in a light weight range at 7.3 - 7.8 oz and a midweight range of 7.9 - 8.2 oz. It uses the thick X5 polymer core to create a soft, dampened feel that improves dinks and controlled shots like third shots, while still maintaining power for put-away shots. It also has the trademark Selkirk iconic design. There is also the option to buy a top-quality Vanguard Paddle cover for £15 (usual price £20) when you purchase this paddle.
The VANGUARD Hybrid Invikta Paddle is for players who want to be able to do it all with ease, comfort and speed.
Reviews