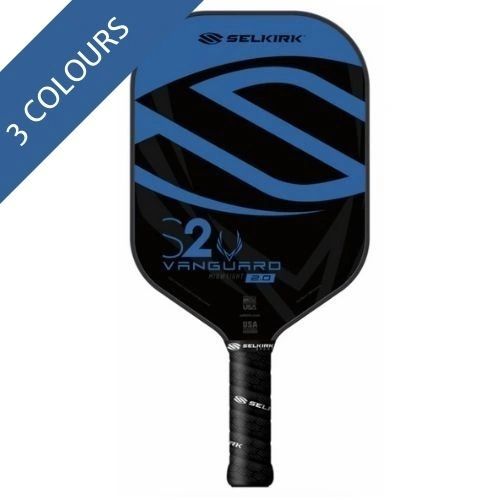 Vanguard S2 2.0 Paddle
Join the Vanguard revolution! If you've already been "Amped" then you'll know the benefit that the innovative double-thickness core brings to your game in terms of stability, power and control. With their new Vanguard range Selkirk have taken this technology to a whole new level!

The VANGUARD Hybrid S2 Paddle has a broad face so players can enjoy the VANGUARD line's largest sweet spot. If you want touch, pop and power in an agile and comfortable package, this paddle is the way to go. The Hybrid S2 uses the same dimensions as the original Amped S2 but has the VANGUARD upgraded features including the textured carbon fibre surface, unique new edge guard and the Geo grip. The face is made with a bi-directional carbon fibre that uses two layers on each side of the paddle to create the exceptional sweet spot. This creates a super reinforced design for more consistency, defence and feel.
The VANGUARD Hybrid S2 Paddle uses a low- profile edge guard that protects your equipment while reducing the chances for mis-hits. The Geo grip on the handle was made specifically for the VANGUARD line and has excellent moisture-wicking properties, better traction and comfort. The Hybrid S2 has a thick X5 poly core that reduces vibrations and provides a pleasantly soft touch. It comes in two weights, the lightweight at 7.5 - 7.9 oz and the midweight at 7.9 - 8.3 oz. There is also the choice of a matching Vanguard paddle cover for £15 extra.
The Vanguard Hybrid S2 Paddle keeps you closely connected to the action so you can feel every hit while controlling pickleballs without any strain.
Reviews