Prince Spectrum Pro Pickleball Paddle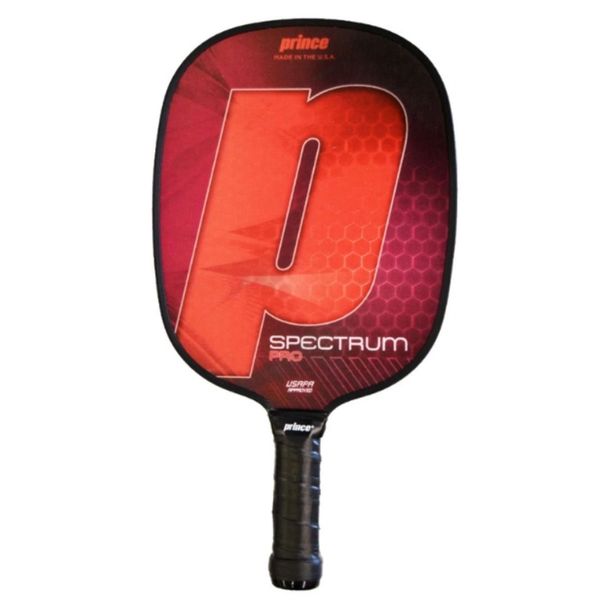 Prince Spectrum Pro Pickleball Paddle
The Prince Spectrum Pro has a circular shape that creates an extra large sweet spot that will blow away "touch" players' expectations. This paddle has a very soft feel that can still smash winners with ease whenever you see an opening. A thick polymer core serves to increase its responsive nature while a slim edge guard allows for the maximum amount of surface area. This paddle defies the normal trade-offs you face in composite fibreglass paddles - it has an enormous sweet spot, and exceptional power attributes, making it equally appealing to players who want both a great defensive paddle and an offensive weapon.
The Spectrum Pro Paddle has a 5" long handle, is mid weight and has a medium grip size. The design uses a background composed of a combination honeycomb/jagged design overlaid by Prince's "p" logo.
The Prince Spectrum Pro Paddle features a wonderful blend of touch and strength which will have you feeling more in control of your game than ever before. The Progressive Core technology is thicker than the industry standard polymer cores. It features a 9/16" thick core that provides a "linear progressive" feel. The more you power up your shots, the more of that power gets imparted to the ball. The "Progressive Core"combined with its unique rounded shape maximizes the sweet spot and gives you shot consistency with soft shots (like dinks), with defensive volleys (where you need to take power out of a shot coming at you fast), and with power "put away" shots. Colours: Blue, Red, Purple or Orange.
Specifications:
Weight Range 
 7.7 - 8.1 ounces
Grip Circumference: 4 1/8"(small) or 4 3/8" (medium) 
Grip Style: thin, flat (small) or perforated cushion (medium)
Grip Length: 5"
Paddle Length: 15 3/4"
Paddle Width: 8 1/4"
Paddle Face : Textured UV coated
Core Material: Polymer honeycomb
Edge Guard: 1/8" overlapping paddle face
Manufacturer: Prince Pickleball. 
Made in the USA, USAPA approved
Reviews