Prolite SuperNova Pro: 2020 edition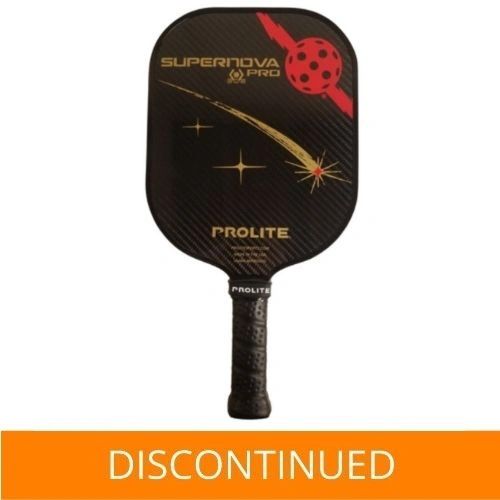 Prolite SuperNova Pro: 2020 edition
The ProLite SuperNova Pro Paddle is a stunning paddle and includes all of the best, highly sought after, qualities coveted by advanced and professional players. From the beautiful metallic gold and galactic eye catching colours to its extra thick woven carbon fibre hitting surface providing longer dwell and greater traction for enhanced spin. A game-changer of a paddle, it will be help to improve your game around the entire court.
The SuperNova Pro is a paddle that's perfect for power hitters and anyone craving unparalleled balance. A longer handle allows players to employ backhanded hits while making use of a larger and more responsive sweet spot. ProLite claim that their exclusive carbon fibre and vibration dampening system helps alleviate chronic tennis elbow and wrist pain through dispersion of energy throughout every fibre of the paddle.
The SuperNova Pro Paddle combines the best qualities of a tennis racquet and a pickleball paddle and will surprise you with its versatility and consistent responsiveness.
Specifications:
Weight Range: 7.9 - 8.3 ounces, average 8.0 ounces
Grip Circumference: 4-1/8" (Small) 
Grip Style: Thin, flat. Manufacturer: PROLITE SofTac 32
Grip Length: 5 1/4" (slightly longer than average)
Paddle Length: 15 9/16"h
Paddle Width: 8 1/8"
Paddle Face: braided woven carbon fibre (carbon fibre is often referred to as graphite)
Core Material: 13mm top-grade polymer honeycomb
Edgeguard: Ultra thin, low-profile
Made in the USA and USPA approved for tournament and recreational play

Reviews