Tempest Wave II Graphite Paddle 2020 model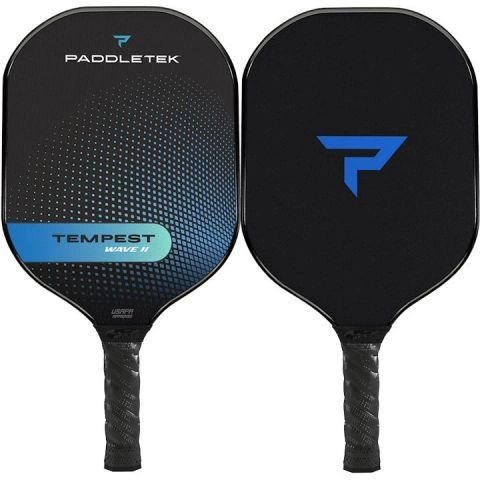 Tempest Wave II Graphite Paddle 2020 model
A true player's paddle, the Tempest Wave II offers you incredible control for strategic short games. The textured graphite surface makes it easy to place the ball exactly where you want it, and the graphite in the Tempest PolyCore dampens vibrations and reduces weight while still providing enough power for a put-away shot.  The Tempest Wave II Graphite Pickleball Paddle will complement your ability to read the game and keep you in control of the ball.  It has a gentle, muted feel on impact which allows players to respond on their terms rather than forcing an unbalanced volley. The paddle's textured surface helps "grab" pickleballs to improve placement and add spin.
The Tempest Wave II Graphite Paddle has a weight range of 7.4 - 7.8 oz which makes it a great choice for speedy exchanges at the net without being so light as to lose power. The grip is 5-1/4" in length which is more generous than the average paddle, providing more room for those with larger hands or space for two-handed backhands. The grip circumference is a medium size.
The Tempest Wave II Graphite Paddle has a soft touch with the ability to respond quickly and make precise shots. Available in the following colors: blue riptide, green barium, red wildfire & yellow horizon.
The Tempest Wave is approved by the USAPA  for sanctioned tournament play.
Specifications
Extra-large playing surface with balanced weight distribution
Textured graphite playing surface provides superior touch
Tempest ProPolyCore with vibration dampening technology
Engineered for significantly quieter play in noise restricted communities
Grip Length:  5 1/4"
Limited lifetime manufacturer's warranty
Weight: 7.4 to 7.8 oz
Tempest ProPolyCore
Made in the USA
Reviews