Tempest Wave US OPEN Limited Edition: minor cosmetic blemishes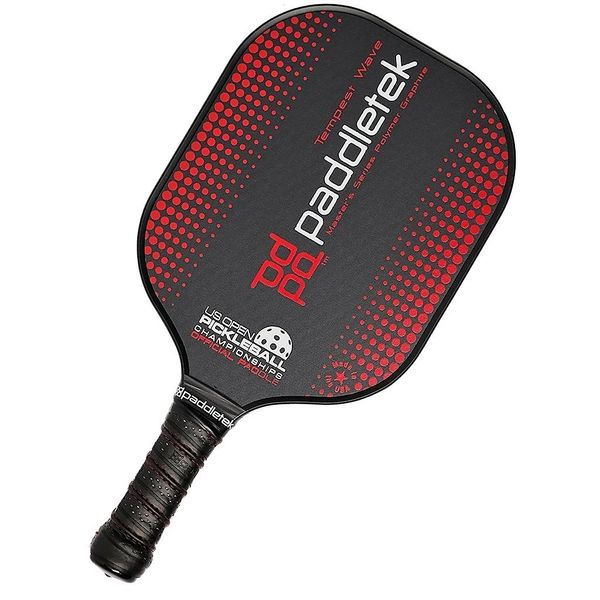 Tempest Wave US OPEN Limited Edition: minor cosmetic blemishes
These Tempest Wave US Open paddles have small cosmetic blemishes on the paddle's hitting surface. What is meant by small? Slight discrepancies in the printing or a slight scratch or dent which will blend in immediately the paddle is used. The paddle's performance and manufacturer's guarantee are not affected. The only thing this is affected is the price: they are being discounted by a massive £20! 
The
US OPEN Tempest Wave
 by
Paddletek
has all of the regular Tempest's best qualities, but comes in a dazzling package! The Tempest is known for its incredible control, balanced weight and slightly textured surface and you can expect all the same perks with this paddle and and the same time stand out from the crowd.
The US OPEN Tempest Wave has a soft but sturdy polymer core that allows you to accurately position shots, complemented by a hard graphite face that deflects pickleballs with ease and allows for unparalleled touch. The paddle's weight range is 7.6 – 7.7 oz and it comes with a medium grip. This Tempest has a black background that's dotted with blue along the sides, and has the name "Paddletek" with its company logo. Available in Red or Blue.
Specifications:
Weight Average: 7.65 ounces, Weight Range: 7.6 - 7.7 ounces 
Grip Circumference: 4 1/4" (Medium),  
Grip Length: 5 1/4" Paddle Length: 15 7/8"
Paddle Width: 8"
Paddle Face : Graphite 
Core Material: Polymer honeycomb 
Edge Guard: 1/8" overlapping paddle face 
USAPA approved
Reviews