The Pickle by Lobster: Pickleball Training Machine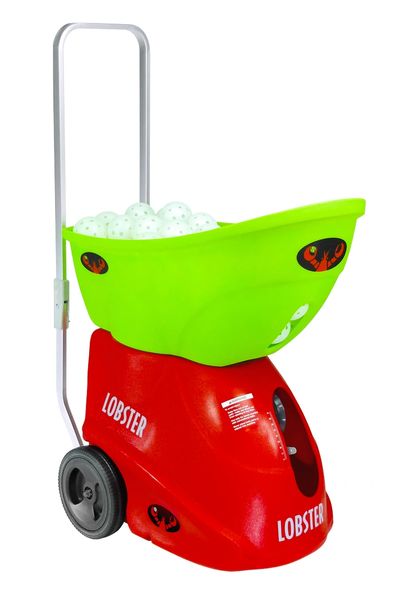 The Pickle by Lobster: Pickleball Training Machine
THE PICKLE BY LOBSTER IS NOT CURRENTLY IN STOCK BUT IS AVAILABLE TO ORDER. LEAD TIME IS APPROX 4-6 WEEKS. PLEASE EMAIL OR CALL TO PLACE AN ORDER OR DISCUSS OPTIONS.
New to the Lobster Sports family of ball machines, the Pickle by Lobster is a full-featured pickleball machine. This pickleball machine throws balls up to 60 mph and offers both heavy top and backspin. The large hopper holds an impressive 135 pickle balls and the pickle by Lobster can challenge you for up to 4 hours per charge, allowing you to master shots like the dink, drive, lob, and groundstrokes - helping to take your game to the next level.
For a great workout, the random oscillation will make you focus on your footwork, while the sky-high lob capability will keep you on your toes, improving any weak area of your game.
At only 35 pounds the pickle by Lobster's smart design features an inverting hopper,a folding handle, and large 8-inch wheels, which make it easy to get the pickle in and out of your car, over curbs and across any surface to the court.
The pickle by Lobster is made in the USA and works with indoor and outdoor pickle balls.
Additional extras include 50 or 100 white indoor Jugs balls and/or a ball collector. click here to view the spec of the ball collector
Unfortunately stock of outdoor balls is limited at this time so if you'd prefer outdoor balls please call or email us prior to placing your order.
Specifications:  Weight 35lbs, Ball capacity 135, Shipping box dimensions 30x10x24 inches, Machine dimensions 26x18x22 inches. Made in the USA, can be used with outdoor or indoor pickleball
Reviews