Titan Pro Black Diamond - New Look!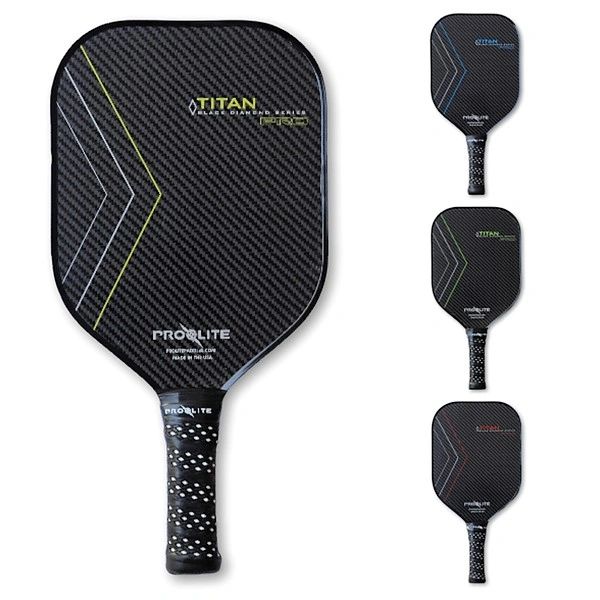 Titan Pro Black Diamond - New Look!
The Prolite Titan Pro - New Look is the hipper brother of the original Titan. Prolite have added a few minimal but colourful graphics to spiff things up.

This one is different - from the ground up. It's a technological beauty of a paddle, unlike any other ever created. But more than that, it's the first paddle to incorporate carbon fibres into the paddle face (you can see the fibers). It's the best of the best in terms of quality design, materials and workmanship. 
100% Pure high quality carbon fibre surface means better absorption and enhanced spin.
Strongest Polymer Core on the market.
Large paddle face and balanced sweet spot.
Elegant sleek modern look.
Quietest paddle for noise restricted communities.
Extra low profile edge guard for more surface area and consistent feel.
Ideal for fast net play.
USAPA Tested and Approved
Paddle Specifications:
Light weight from 7.4 oz - 8.0 oz.  
Contoured handle for better grip.
Grip circumference 4 1/4" - Grip length 5"
ProLite's own "No Sweat" Diamond Grip
Shipping within the UK is FREE but shipping anywhere else within the EU is £10. For destinations outside the EU, please call or email for a price before placing your order.
Reviews