TOPP XJ-900 Composite WideBody Pickleball Paddle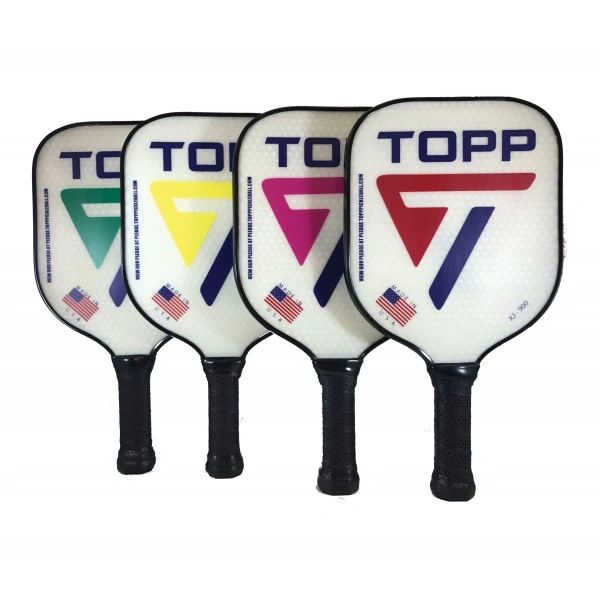 TOPP XJ-900 Composite WideBody Pickleball Paddle
The XJ-900 Composite WideBODY paddle is the first paddle released by TOPP Pickleball, Inc.  TOPP Pickleball stands for TOmorrow's Pickleball Pledge and is dedicated to promoting the sport world-wide. TOPP was co-founded in 2017 by the legendary Steve Wong, who also co-founded the USAPA and Onix Pickleball and was the first Pickleball Professional so these paddles really do have a top(p)-class pedigree!
The WideBody was made with the pickleball player in mind.  Hit a lovely third shot dink or drive it hard from the baseline with this paddle.  It is equally great for beginners or advanced pickleball players.  This paddle will grow with your game as you get better and the wide surface will be a little more forgiving than smaller-faced paddles.
If you want to add a little REACH to your game then check out the all new Composite Reacher. It's the latest Blade paddle that gives you extra reach to hit those volleys, dinks or groundstrokes. However, it is much more forgiving than other "blade" pickleball paddles so is not just for the expert player!
Paddle Specs XJ-900 Composite WideBODY:
Length - 15 1/2"
Width (WideBODY) - 8 3/8"
Handle Length - 5"
Weight - 7.6oz - 8.2oz
Grip Size - 4 1/4" - 4 1/2"
Grip Style - TOPP CushGRIP
Paddle Material - Polypropylene Core
Paddle Specs Composite Reacher:

Length - 16" (Blade)
Width (WideBODY) - 7 1/2"
Handle Length - 4 3/4"
Weight - 7.6oz - 8.2oz
Grip Size - 4 1/4" - 4 1/2"
Grip Style - TOPP CushGRIP
Paddle Material - Polypropylene Core
Reviews