Topp XJ-900 Graphite Widebody Paddle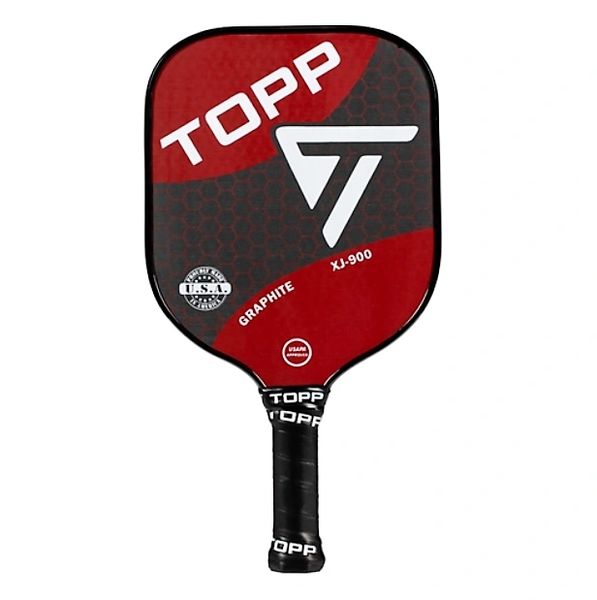 Topp XJ-900 Graphite Widebody Paddle
The
TOPP XJ-900 Graphite Widebody Paddle
has an extra large sweet spot that will help any player return balls with speed and precision. Its graphite face adds extra reactivity to your game and adds a nice touch sensation. The polymer core softens impact to defend against slams and allows you to easily manage dinks and third shot drops. Despite its broader width, it maintains a comfortable mid-range weight. 
The XJ-900 Graphite Widebody Paddle weighs 7.6 - 7.9 oz and has a 8-3/8" width. The handle length is 5" with a medium to large grip size. Two swoops of color serve as accents along the upper left and lower right corners of the paddle, with a dark gray background coloring the rest of the design. TOPP's logo sits on the right side of the face. 
The XJ-900 Graphite Widebody Paddle lets you stay prepared for any scenario and maintain control even during fast-paced games.
Specifications:
Weight Average: 7.8 ounces
Weight Range: 7.6 - 8.2 ounces
Grip Circumference: 4 1/4 (Medium)
Grip Style: Cushion
Grip Manufacturer:TOPP CushGrip 
Handle Length: 5"
Paddle Length: 15 1/2"
Paddle Width: 8 3/8"
Paddle Face: Graphite
Core Material: Polypropylene
Edge Guard: Yes
Manufacturer: TOPP Pickleball
Made in the USA
Reviews