Engage Trident Pickleball Paddle: with new graphics!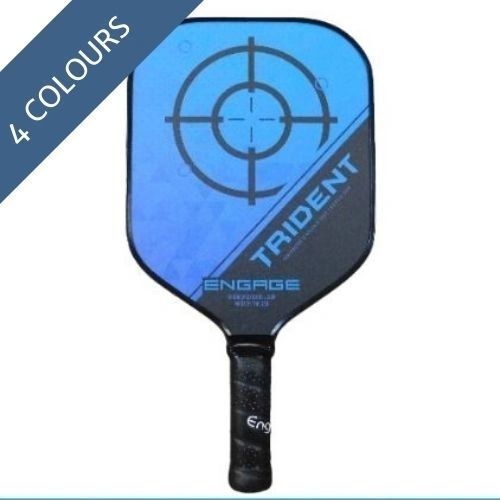 Engage Trident Pickleball Paddle: with new graphics!
Introducing the NEWLY DESIGNED 'Trident' Pickleball paddle, What's new?  It comes with a new look!

The Trident debuts Engage's innovative 5-layer GripTEK skin, optimized for ultimate feel, control, ball placement and spin. The skin hits the USAPA limits on roughness and won't wear away over time.  It's evenly distributed across the entire paddle face for an even and balanced reaction to your point of contact with the ball. This is an extremely solid feeling paddle with a larger 'sweet spot' than other paddles.
The 5-layer skin works together with the 'Control Pro 3' core, designed so the 'skin' and 'core' act as one for the control you need to place the ball by your opponent.  The paddle has plenty of power to put the ball away too when needed, but control, feel and spin are the main focus of the paddle with being extremely balanced for quick reaction and manoeuvrability. The engineering of the Trident maximizes the amount of time the ball stays on the paddle (a concept originally developed by Engage), enabling you to place the ball with precision and command the net game. 
The 'Trident' is the only paddle with GripTek™ Technology.
Specifications:

Core: Specialized Polymer 'Control Pro 3' core (with vibration dampening)
Skin: 'Proprietary' 5-layer GripTEK Composite Skin

Weight: 7.3 - 7.9 oz



Size: 15 1/2" long x 8 1/8" wide
Grip: 4 1/4" (medium)
Colours:  Dark Gold, Midnight Blue, Red Horizon, Silver Shadow
USAPA Listed and Approved
Reviews