Trident Pickleball Paddle: incredible introductory price!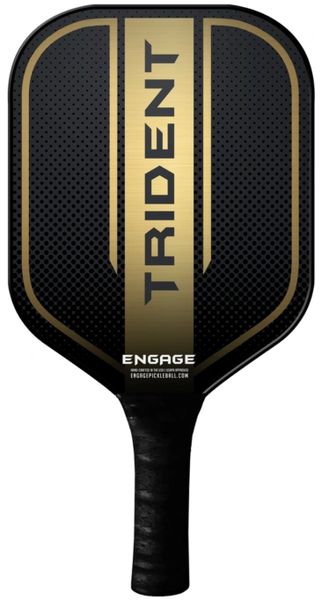 Trident Pickleball Paddle: incredible introductory price!
SPECIAL INCREDIBLE INTRODUCTORY PRICE! This paddle retails at $119 in the US. Available here at the special price of £69 while stocks last. Be one of the first to try this innovative new paddle! 
Maximise your game with the three-pronged attack of the Engage Trident: GripTek skin, ControlPro core and the perfect balance of power and touch. 

The Trident debuts Engage's new innovative 5-layer GripTek skin. Optimised for ultimate feel, control, ball placement and spin, it is an extremely solid feeling paddle with a larger 'sweet spot' than other paddles. This new GripTek skin is an innovation created and designed by Engage. The skin hits the USAPA limits on roughness and won't wear away over time.  It's evenly distributed across the entire paddle face for an even and balanced reaction to your point of contact with the ball. 
The 5-layer skin works together with the 'Control Pro 3' core, designed so the 'skin' and 'core' act as one for the control you need to place the ball by your opponent.  The paddle has plenty of power to put the ball away too when needed, but control, feel and spin are the main focus of the paddle with being extremely balanced for quick reaction and placement. The engineering of the Trident maximizes the amount of time the ball stays on the paddle (a concept originally developed by Engage), enabling the soft feel to command the soft (net) game. 
The Trident is the only paddle with GripTek™ Technology. Engage's NEW Trident Pickleball paddle was selected as the Official 2018 Texas Open Tournament Paddle (awarded to the Gold Medalist) and was such a success that it was again selected as the official paddle of the Texas Open in 2019. Available in a choice of six colours.
Specifications:
·        Core: Specialized Polymer 'Control Pro 3' core (with vibration dampening)
·        Skin: 'Proprietary' 5-layer GripTEK Composite Skin
·        Weight: 7.7 - 8.1 oz
·        Size: 15 1/2" long x 8 1/8" wide
·        Grip: 4 1/4" (medium)
·        Colours:  Black, Black/Gold, Blue, Red, Purple and Aqua
·        USAPA Listed and Approved
Reviews