Topp Viper Graphite Pickleball Paddle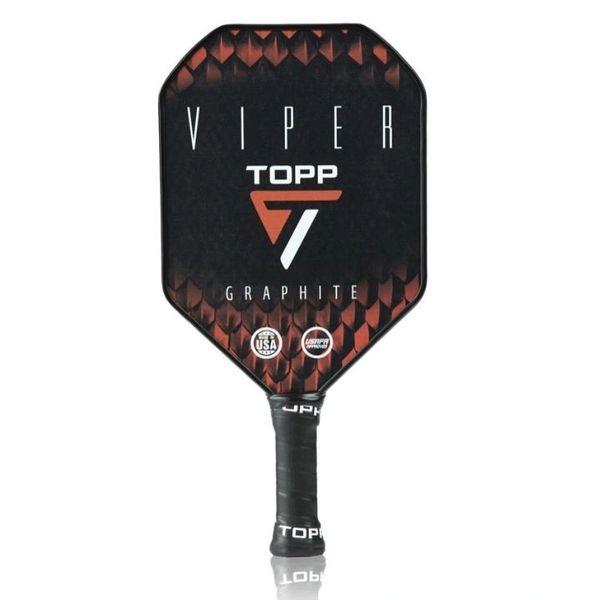 Topp Viper Graphite Pickleball Paddle
The Topp Viper Graphite paddle complements players of any level of play, thanks to its combination of length and shape. By maximising width and length and adjusting the corners to fit, the Viper has also maximised the sweet spot of the paddle. The angled corners not only give this paddle a unique and pleasing shape, they help reduce the overall weight of the paddle but crucially without sacrificing any power as also allow more space for a two-handed backhand shot. The graphite hitting surface delivers exceptional control while the strong polymer core offers all the power you'll need to put away your shots.
The Viper weighs in at the perfect mid weight of  7.7 – 7.95 ounces and features a unique shape with  simple yet eye-catching graphics on a black background. Stand out from the crowd with the Topp Viper Graphite paddle! Colour available: Red only
Specifications:
Weight Average: 7.8 ounces
Weight Range: 7.65 - 8.0 ounces
Grip Circumference: 4 1/8 (small) 
Grip Style: Cushion
Grip Manufacturer:TOPP CushGrip
Handle Length: 5"
Paddle Length: 15 3/4"
Paddle Width: 8"
Paddle Face: Graphite
Core Material: Polypropylene
Edge Guard: Yes
Manufacturer: TOPP Pickleball
Made in the USA.
Reviews