Voltage 2.0 Graphite Pickleball Paddle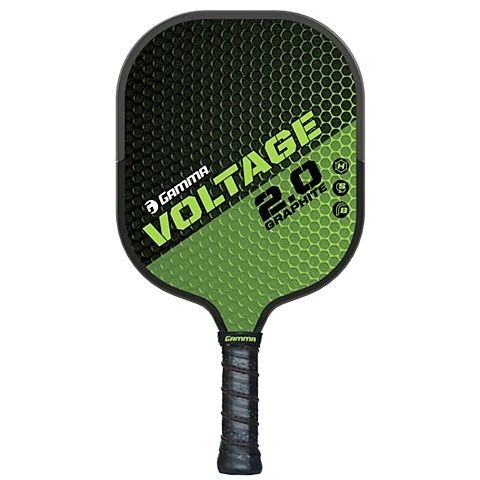 Voltage 2.0 Graphite Pickleball Paddle
Gamma's pickleball paddle collection has had a makeover! Their 2.0 collection offers all the same brilliant paddles but each with a retextured surface to offer a slightly 'scratchy', rough feel to the face that helps add a little pop and spin to the ball. 

The Voltage 2.0 pickleball paddle is still lightweight and fast making it ideal for players that want to stay one step ahead of the competition. The super responsive graphite face provides exceptional feedback, touch and durability, while the aramid core is pilotable and ultra responsive for all shots. Featuring the same flush-fit bumper and unibody handle with a textured graphite face and 4 inch (small) grip, it weighs in at an average of 7.8 ounces. Colour Emerald/Black.
This is a fantastic Premium Pickleball Paddle.
Paddle Specifications:
Weight Average: 7.8 ounces 
Weight Range: 7.6-8.1 ounces  
Grip Circumference: 4 1/8" (Small) 
Grip Tack: Medium 
Grip Style: Cushion, perforated, ribbed, stitched
Grip Manufacturer: Gamma Ultra Cushion Contour
Grip Length: 5 1/4" 
Paddle Length: 15 3/8" 
Paddle Width: 8-1/8"" 
Paddle Face Finish: Graphite 
Core Material: Nomex honeycomb 
Manufacturer: Gamma
Made in China

Reviews