Vulcan V560 Control Paddle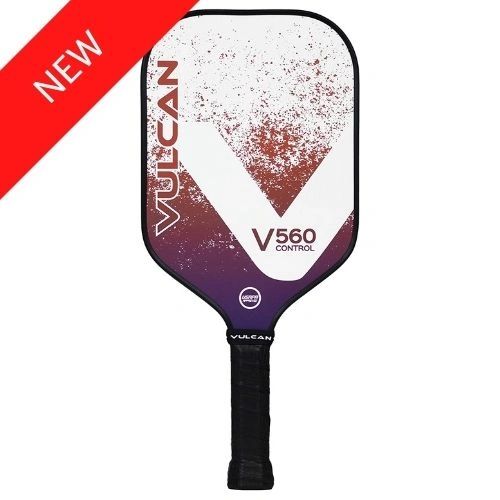 Vulcan V560 Control Paddle
The Vulcan V560 Control Pickleball Paddle features a fiberglass blend face/polypropylene core combination and has a soft touch that helps to reduce vibrations while keeping your hand steady. The elongated handle allows for easy wrist manipulation and double-handed backhands when you need to put a ball away. The Vulcan V560 Control Paddle weighs an average of 8.2 oz, giving you the power you'll need without being heavy. The handle has a medium grip circumference and a longer than average 5 1/2" length. The V560 has a pleasant consistency that allows you to make full use of its face. The lengthy design is ideal for those looking for all-court coverage and a versatile piece of equipment that will allow them to return any shot.
This paddle is ideal for both doubles and singles and is used to great effect in both by Vulcan professional player Jay Devilliers.
The Vulcan V560 Control Paddle is the thinking player's paddle, suited to tactical players who like to place the ball precisely but crucially it also packs a punch when power is required.
Specifications:
Weight Range: 8.1-8.3 ounces
Grip Circumference: 4 1/4" (Med) Actual grip sizes may vary up to 1/8".
Grip Style: Textured, high-tack grip, Grip Manufacturer: Vulcan
Grip Length:5 1/2 " (longer than average)
Paddle Length:16 1/2 ", Paddle Width: 7 1/2"
Paddle Face: Fiberglass Blend (Control model)
Core Thickness: 13 mm (0.51")
Core Material: Polypropylene honeycomb
Manufacturer: Vulcan, Made in China
Reviews