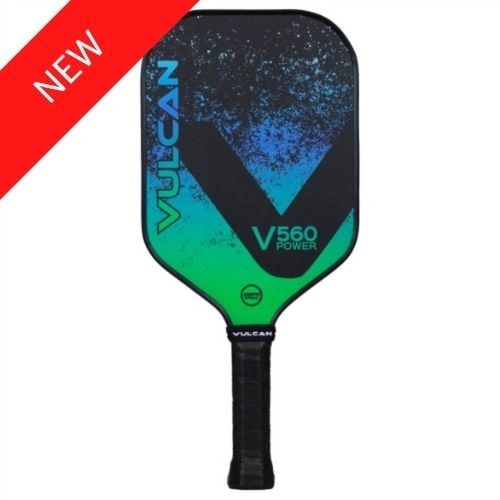 Vulcan V560 Power Paddle
The Vulcan V560 Power Paddle has everything you'll need to take control of the court and consistently play with speed, strength, precision and power. It has a classic shape with an elongated handle to assist manoeuvrability or to accommodate a double-handed backhand. Its reactive face is ideal for sending back shots with power and controlled aggression.
Weighing in at an average of 8.2 oz, this paddle gives plenty of "pop" in every swing without being overly heavy. The handle length is 5 1/2" long with a medium grip circumference. The polypropylene core offers a stable feel with great durability and consistency. The face is made from a carbon fibre blend which provides a solid, extra rigid construction that creates an immediate response when a pickleball strikes the surface. The Vulcan V560 Power Paddle is an adaptable and tough paddle that will stand up to aggressive play.
Specifications:
Weight Average: 8.2 ounces, Weight Range: 8.0-8.4 ounces
Grip Circumference: 4 1/4" (Med) Actual grip sizes may vary up to 1/8".
Grip Style: Textured, high-tack grip, Grip Manufacturer: Vulcan
Paddle Length:16 1/2 ", Paddle Width: 7 1/2"
Paddle Face: Carbon Fibre Blend (Power model)
Core Thickness: 13 mm (0.51")
Core Material: Polypropylene honeycomb
Manufacturer: Vulcan, Made in China
Reviews