Champion Aluminium Pickleball Paddle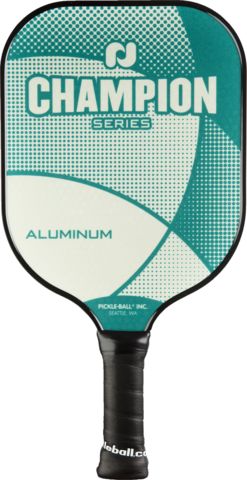 Champion Aluminium Pickleball Paddle
The Champion Aluminium Pickleball Paddle joins the Champion Graphite in the all new Champion Series by respected manufacturer Pickle-ball Inc. In the Champion Aluminium you'll find the same oversized head as the Champion Graphite which gives you maximum surface area for those hard to reach shots and more margin for error when trying to put away your opponents. The Champion Aluminium is engineered and designed for performance with a durable and powerful aluminium honeycomb core and an ultra-responsive fibreglass face. This combination gives the Champion Aluminium uncompromising pop and a large sweet spot that will help you drive the ball with accuracy and authority from anywhere on the court.
The new re-designed and upgraded model comes with a high performance grip and a slim low-profile edge guard that not only looks great but offers increased protection all around. An all new graphics application process allows for vibrant colour graphics, increased durability, and does not compromise the natural advantages of the fibreglass surface.
Colour: one only left in Rip-tide (teal).
SPECIFICATIONS: Weight: 7.6 - 8.1 oz. Height: 15 ¾". Width: 8 ¼". Grip Circumference: 4 ¼" USAPA approved
Reviews