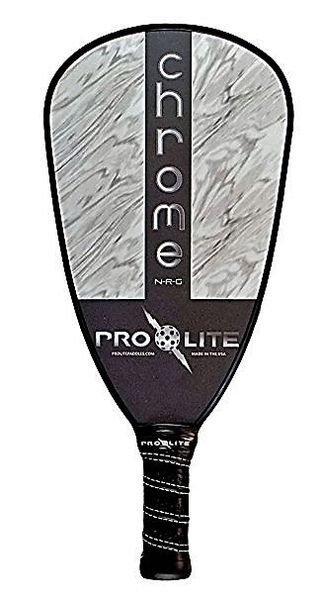 Chrome Pickleball Paddle
The Chrome Paddle by Prolite will help you get more power on your swings and better placement during dinks. The strong taper and long face are ideal for extending a player's reach so they can attack every shot. The polymer core creates a broad sweet spot while the gel-coated face allows for more time to respond during rallies. Its shape is especially useful for base line ground strokes to create additional momentum. 
The Chrome Paddle has a medium 7.6 - 8.0 oz. range which offers a balanced, stress-free middle weight. Its width of 7-5/16" creates an aerodynamic feel while still providing enough room to comfortably return balls. The background design creates a paint-like effect, and the paddle's name is written in silver down the middle. A black segment at the bottom shows off Prolite's logo. Available in white only.
The Chrome Paddle will make covering the court easier than ever before and help you maintain control over the ball.
Specifications:
Weight Average: 7.8 ounces
Weight Range: 7.6 - 8.0 ounces
Grip Circumference: 4 1/4" (Medium)
Grip Style: Cushion
Grip Manufacturer: ProLite Comfort Contour 
Handle Length: 4 1/2"
Paddle Length: 16 5/8"
Paddle Width: 7 5/16"
Paddle Face: fiberglass, vinyl gel-coat
Core Material: QuadCore (TM) polymer honeycomb
Edge Guard: Low profile MicroEdge (TM) guard
Manufacturer: Pro-Lite Sports
Made in the USA.

Reviews