Junior Club Complete Starter Pack: Club net system, 4 Junior paddles and 4 balls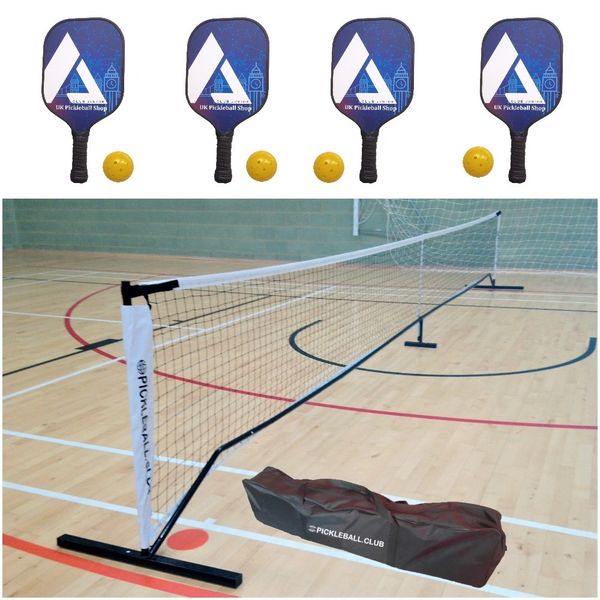 Junior Club Complete Starter Pack: Club net system, 4 Junior paddles and 4 balls
The Junior Club Complete Starter Pack is an affordable and smart way to start a new junior pickleball club or for schools and leisure centres to provide everything needed for children to play this wonderful sport.
The Graphite Club Junior paddle has been made with children in mind but crucially with no compromise on the performance of the paddle. The two main issues with standard paddles for children are the weight and the grip size and both these are taken into account in the Club Junior. The weight is around 6.8 ounces and the grip circumference is 4 inches but other than that it is exactly the same as the standard Club paddle.
The Club Portable net is full tournament size and can be assembled in minutes. Whilst it is possible to play a game of pickleball with a lowered badminton net there are several drawbacks such as the difficulty in securing the net to the correct tournament height, preventing it sagging in the middle during play and the uprights hindering a players line of sight during a game. A "proper" portable pickleball net solves all of these problems.
The balls are outdoor Ace 2 balls (yellow) or indoor Jugs in lime green or white, subject to stock availability. 
Pack Features:
One (1) portable Cub net, four (4) Graphite Club Junior pickleball paddles and four (4) balls.
Reviews