I Love Pickleball Grips and Edge Guard Tape by TOPP Pickleball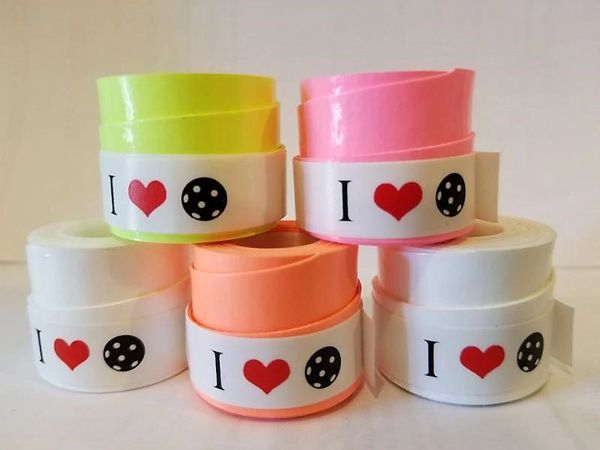 I Love Pickleball Grips and Edge Guard Tape by TOPP Pickleball
Show someone some pickleball love and give their paddle a make-over with an "I Love (heart) pickleball" embossed overgrip and edge guard tape.
The overgrip comes in four vibrant colours (Light blue, Neon lime, Neon  orange and Neon pink) and in Black and White each of which is embossed with "I love (heart) pickleball at regular intervals along its length. The securing tape is also printed with the same sentiment. The grips not only look great but are made of high-quality, medium tack leather to give an improved grip to help control each shot. Adding an overgrip to a paddle can help alleviate elbow strains and pain as it discourages the player from gripping the paddle too firmly.
The edge tape is designed to be used on paddles with or without an edge guard. On a paddle with an edge guard the tape's function is purely cosmetic (given that purpose of an edge guard is to prevent damage to the paddle) but on an edgeless paddle it can prevent chipping to the paddle itself. Whatever the reason to use it, it looks great!
Reviews