Prolite Ignite Hybrid I-Series Paddle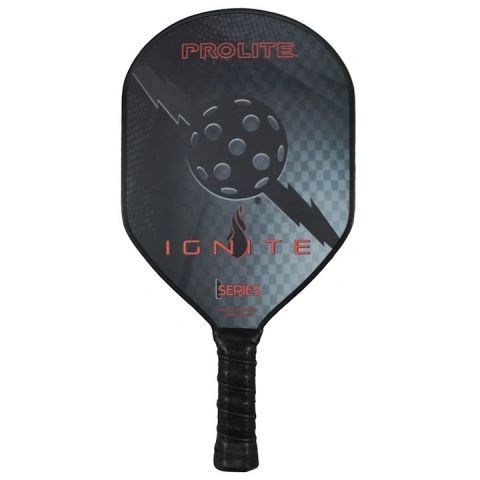 Prolite Ignite Hybrid I-Series Paddle
The ProLite Ignite Hybrid I-Series Paddle has a multipurpose shape that gives you both speed and surface area. The tapering at the bottom makes this paddle easy to handle and quick during exchanges at the net. The more rounded top creates more usable space for returns and widens the sweet spot overall. The paddle's great touch and lightly textured exterior will improve your control.  
The Ignite Hybrid Pickleball Paddle is medium weight, ranging from 7.9 – 8.3 oz. It has a small grip circumference which allows players of all sizes to comfortably handle it. The tacky grip helps players maintain a firm hold while the perforations draw moisture away from the hand. It has a polymer core which is gentle on impact but provides durable and reliable power.  
The Ignite Hybrid I-Series Paddle is well balanced and offers excellent value to players who want a consistent and versatile paddle.
Specifications:
Weight Range: 7.9 - 8.3 ounces, average 8.1
Grip Circumference: 4-1/8" (Small) 
Grip: Tacky.
Grip Style: Perforated
Grip Manufacturer: PROLITE
Grip Length: 4 7/8"
Paddle Length: 15 3/4"
Paddle Width: 7 7/8"
Paddle Face: Carbon fibre with textured polycarbonate
Core Material: Polymer honeycomb
Edgeguard: Low-profile, tapered edge
Made in the USA, USAPA approved

Reviews