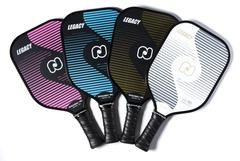 Legacy Pickleball Paddle
The new Legacy pickleball paddle by Pickleball Inc. has been updated to look like the championship calibre paddle it is. All the components of the paddle the same for all the die hard fans of the Legacy, but they felt that it was time for a fresh new look. They have certainly succeeded in their aim as the Legacy now looks as fabulous as it plays.  
The Manufacturer has worked with some of the world's leading pickleball players to design a paddle unrivaled in strength and performance. Every detail of this paddle is crafted to give players the best game possible, from its shape and perfect balance to its featherweight feel.
Colours: Pacific (blue), and Olympic (white)
PADDLE SPECIFICATIONS:
Weight: 7.5 - 8.0 oz.

Height: 15 3/4''

Width: 8 1/4''

Grip Circumference: 4 1/4"

Material: Fiberglass with Nomex Core

USAPA approved
Reviews