Mini Pickleball Christmas Key Ring: with silver snowflake charm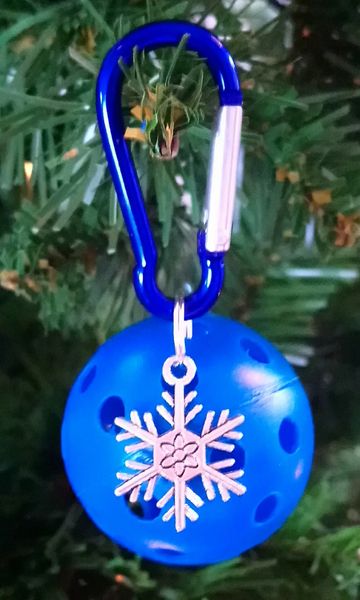 Mini Pickleball Christmas Key Ring: with silver snowflake charm
The Mini pickleball Christmas Key Ring makes the perfect stocking filler for any pickleball fan. Perfect to hang from keys, paddle cover or kit bag, it is available in a choice of bright colours. It even looks great hanging on the Christmas tree (see photos). Comprising of a mini pickleball with a matching carabiner, the addition of a Tibetan silver snowflake charm makes it very festive and pretty. Available in the following colours: Red, Blue, Green, Pink, Orange or Yellow.
The mini pickleball itself is just under 4.5 cms in diameter and the whole key ring is approximately 10 cms long.
Please note that the snowflake charm will be a random design i.e. it may not be exactly the same as the examples shown. After all, every snowflake is unique!
Postage: the key ring is designed to be bought along with other products (such as a paddle cover) which means it will not cost extra for postage. However, if bought separately the postage will be charged at the standard cost of £3.95.
Reviews