Phoenix Ultra II Pickleball Paddle: for singles and power play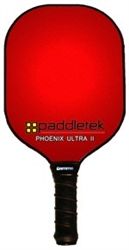 Phoenix Ultra II Pickleball Paddle: for singles and power play
The
Phoenix Ultra II Pickleball Paddle
by
Paddletek
is one of the heaviest composite paddles on the market. This is the the paddle with the perfect blend of power and control and provides the player with tremendous pop. It is
the
paddle to hit balls into the deep backcourt which makes it the perfect choice for ex-tennis players and for singles play.
Weighing in at
9.9 to 10.6 ounces it gives players an immense amount of power in each and every hit, but depite this it also offers players a great deal of control. The polymer core provides a strong backbone for this paddle; the fiberglass face provides durability and maneuverability. The paddle has a good length of 15-5/8" and has a handle length of 5". The face is 7-3/4" wide, providing a good amount of striking surface. The medium grip is great for players with average-sized hands.
This Ultra II Phoenix paddle is a favorite among strong players who value packing a punch. Available in Red or Blue.
Weight Average: 10.4 ounces
Weight Range: 9.9 - 10.6 oz.
Grip Circumference: 4 1/4" (Medium)
Grip Tack: medium
Grip Style: Ribbed, stitched, perforated
Grip Manufacturer: Gamma Ultra Cushion grip
Handle Length: 5"
Paddle Length: 15 5/8"
Paddle Width: 7 3/4"
Paddle Face Finish: High-density laminate
Core Material: Polymer honeycomb
Edge Guard: 1/8" overlapping paddle face
Manufacturer: Paddletek
Made in the USA
Reviews