Prime Epic FibreFlex Pickleball Paddle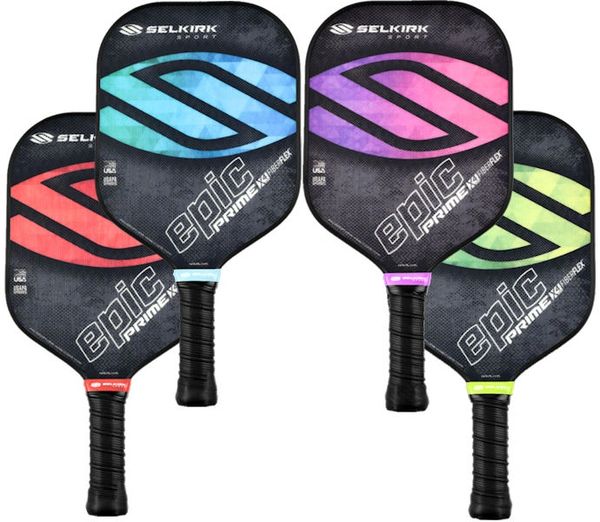 Prime Epic FibreFlex Pickleball Paddle
Selkirk have taken a serious player's paddle and made it Epic. The Prime Epic keeps with the traditional paddle shape having a long handle with a large surface area. Selkirk's most versatile shape, the Prime Epic has their X4 Core Technology along with the added impact of their FiberFlex Fiberglass surface. If you are looking for a paddle that stays true to Selkirk's high standards, packs a punch, and is perfect for a control game, this paddle is a great fit for beginners and advanced players alike.
As with all Selkirk's paddles, the Prime Epic is certainly a looker with a black background with the Selkirk logo across in a bright splash of colour. Colour: Violet only
Details and Specifications:
Weight: 7.2.oz - 7.6 oz, Skill Level: Intermediate to Pro, Height: 15.75", Width: 8, Handle length: 5.25" (slightly longer than average), Core: X4TM Polypropylene Polymer, Face: FiberFlexTM Unidirectional Face, Design: Unibody design for durability and performance, Edge: EdgeSentryTM , Grip: Selkirk ContourGripTM   Grip Circumference: 4.25" (medium)
Made in the USA and USAPA approved.
Reviews