Rally Meister Pickleball Packs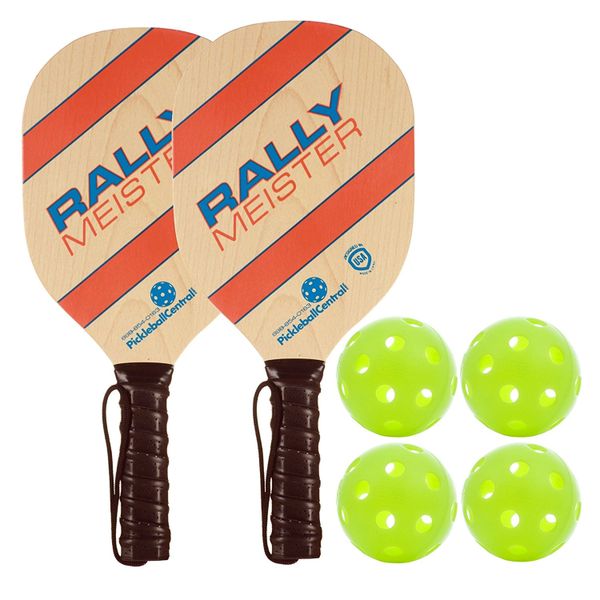 Rally Meister Pickleball Packs
The Rally Meister Pack is the perfect product for those who are just introducing pickleball to a community or group and is especially good for schools. The packs include popular wooden paddles Rally Meister by Pickleball Central, along with Jugs indoor pickleball balls. This product truly is the ideal option for people who want to try pickleball without spending a huge chunk of money on more expensive graphite or composite paddles. 
The Rally Meister Wooden Paddles are very similar in shape and size to their more costly counterparts which will give new players a taste of what playing with a higher-quality paddle will be like. They are also the lightest wooden paddle weighing only 9.5 to 10.6 ounces which means that they are ideal for school use. The grip circumference is a medium-size and has fabulous dimensions, measuring 5-1/4" from top to bottom, with a 7" wide face. The handle on this paddle is 5-1/4" long which provides players with lots of reach. The green or white (dubject to stock availability) Jugs indoor pickleball balls are USAPA tournament approved.
Available to buy in packs of two with four balls, four with six balls, eight with eight balls or the special "School Pack" of sixteen paddles and twelve balls.
Paddle Specifications:
Weight Range: 9 – 10.6 ounces
Grip Circumference: 4 1/4" (Medium) 
Grip Style: Perforated, ribbed cushion grip 
Grip Length: 5.25" 
Paddle Length: 15 ½" 
Paddle Width: 7" 
Paddle Face Finish: Screen print over satin varnish 
Wrist strap: Yes 
Manufacturer: PickleballCentral
USAPA approved 
Reviews