Vulcan 530 Pickleball Paddle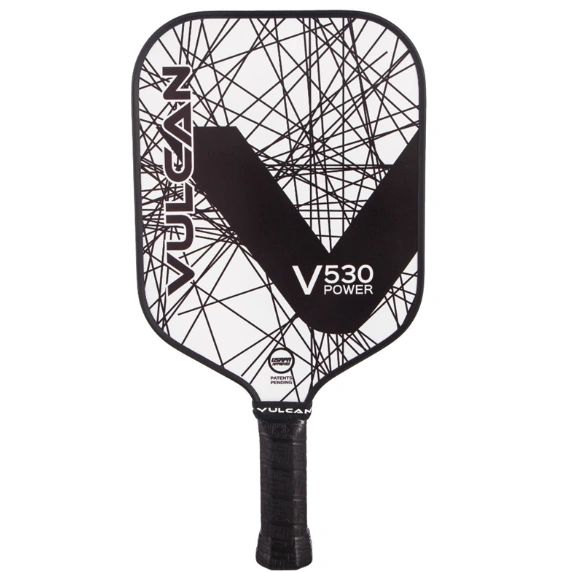 Vulcan 530 Pickleball Paddle
The Vulcan V530 Power Pickleball Paddle is a great choice when you need something that hits harder and faster than the competition. This sturdy paddle is excellent for smashes and generating enough speed so you can open up holes in your opponents' defense. The carbon fibre surface adds more power to every hit yet the wide face has high forgiveness so you can focus on reacting quickly rather than using pinpoint precision.

The Vulcan V530 Power Pickleball Paddle averages about 8.2 oz and has a medium grip circumference that provides extra cushioning and comfort while you're in action. The polypropylene core provides vibration dampening and additional punch through its durable construction. The colour is "Black Lazer" and the design shows a crisscross of stark black lines with the Vulcan "V" over a white background.
With the Vulcan V530 Power Pickleball Paddle other players may know what hit them, but its strength will have them struggling to retaliate.
Specifications:
Weight Range: 8.1-8.3 ounces
Grip Circumference: 4 1/4" (medium) Actual grip sizes may vary up to 1/8".
Grip Style: Textured, high-tack grip
Grip Manufacturer: Vulcan Max Control
Handle Length:4 3/4 "
Paddle Length:15 3/4 "
Paddle Width: 8"
Paddle Face: Fibreglass
Paddle Thickness: 1/2"
Core Material: Polypropylene honeycomb
Manufacturer: Vulcan
Made in China. USAPA Approved

Reviews